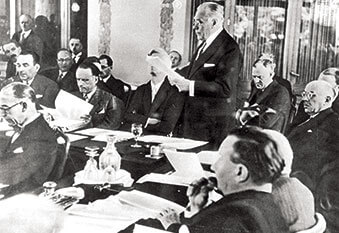 Australia has a long history of accepting migrants to its shores from all parts of the world, dating back to the Gold Rushes of the 1850s.  There has also been a deep-seated suspicion of, and animosity towards, "foreigners" exemplified by the White Australia Policy that was officially enforced by successive governments between 1901 and 1966.  Prejudice against people of non-British, non-Celtic background characterised Australia's outlook throughout the 1930s (the Depression years), the Second World War and beyond.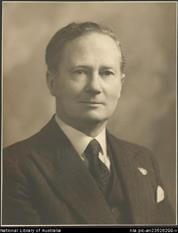 In spite of the alarming rise in the Nazi persecution of German Jews and the annexation of Austria in 1938, Australia's attitude towards Jewish refugees remained inhospitable.  This was expressed at the Evian Conference on Refugees on 6-15 July, 1938, by Australia's chief delegate, Colonel T. W. White, (pictured right) who declared: "as we have no real racial problem, we are not desirous of importing one by encouraging any scheme of large-scale foreign migration".
The exemplary behaviour and courageous stance of Aboriginal leader, William Cooper, was in stark contrast to this sentiment and to the general indifference exhibited by Australia and other nations at this time.  On 6 December, 1938, several weeks after Kristallnacht, Cooper, a founder of an Aboriginal Rights and Aboriginal Land Rights organisation, led a delegation of the Australian Aboriginal League to the German Consulate in Melbourne to deliver a petition condemning the 'cruel persecution of the Jewish people by the Nazi government of Germany'.
About 9,000 Jewish refugees from Central Europe found asylum in Australia before the outbreak of World War Two.  In 1940 about 2,000 Jewish refugees who had fled Austria and Germany were despatched from England to Australia aboard the SS Dunera, labelled "enemy aliens". They were interned in camps, first in Hay (NSW) and later in Tartura (Victoria).